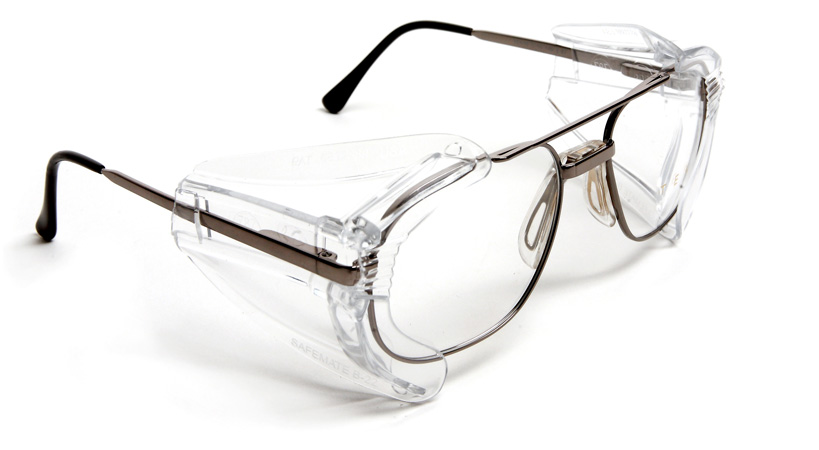 The SAFEMATE® B-22+ MHS® SHIELD Compliments the Safety Optical B-52+® and B-26+® line of Universal Sideshields. The B-22 MHS® Multi-Hazard-Shield® utilizes pliable FDA Medical Grade Polymers that provide expanded coverage, protection and comfort for extended wear in the Medical, Personal and Industrial Hazard Environments.
Narrow frames demand additional side and frontal coverage. The B-22+® Auto adjusts to fit any frame shape (small, medium or large) while self adapting to unique individual facial features. Available in clear, smoke, ice blue, amber and ebony. Independent Lab tested, ANSI Z-87.1 and OSHA Compliant. For information on our Full Line of OSHA Compliant Universal Side Wear® Shields email contactus@sideshield.com or call Toll Free: (866) 919-2020.
Quick Links
[video_lightbox_youtube video_id="tBcfj8wGyeE&rel=0″ width="640″ height="480″ anchor="https://www.sideshield.com/wp-content/uploads/2016/05/SOS_Icons_VIDEO.png"]
Packaging Options
The B-22 SAFEMATE® MHS – Multi Hazard Shield™ packaging contains ten (10) pairs of B-22 SAFEMATE Universal Sidewear Shields and ten (10) sets of care and use instructions. The clam shell packaging is reseal able to keep product clean prior to dispensing and completely recyclable. The B-22 is available in ( c ) Clear, ( i ) Ice Blue, ( a ) Amber, ( s ) Grey and ( b ) Ebony.
Clear: allows maximum light transmission – applications indoor / outdoor where high light transmittance is needed.
Ice Blue: reduces glare while at the same time improves clarity and sharpness of vision. The blue lens blocks out yellow light while mitigating glare and eye fatigue.
Amber: allows maximum light transmission – Improves contrast and gives a sensation of heightened visual acuity.
Grey: provides light filtering protection from glare in outdoor or bright light environments – effective at blocking glare without changing color perception.
Ebony: completely opaque and effective at blocking visible light – mitigates impact of glare and visual distractions from the peripheral – appropriate only for lateral optical occlusion.
Packaging label for the B-22 Safemate® Multi Hazard Shield™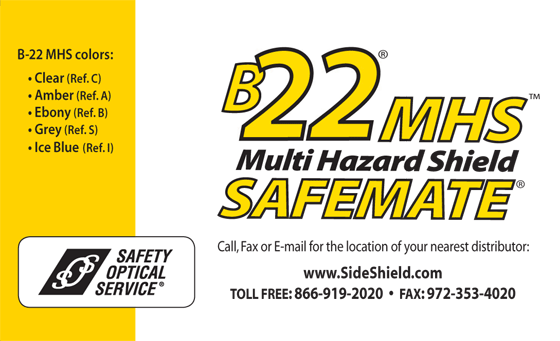 Documents