Universal Sidewear™ ANSI Z87.1-2010 Compliant
1. Which Sidewear™ is Right For You?
The following measurements are given as selection guidelines:
1.182″ to 1.70″ (30mm to 43mm)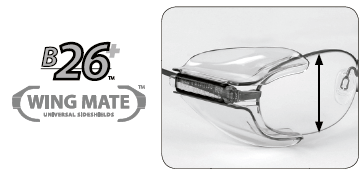 Best fit for:

Small Frames

Medium Frames

Large Frames
The following measurements are given as selection guidelines:
1.25″ to 2.125″ (32mm to 54mm)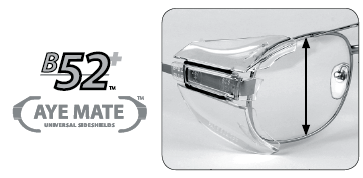 Best fit for:

Small Frames

Medium Frames

Large Frames
2. Adjustment is Simple


Larger Frames:
Open Sideshield until slightly smaller than frame size and install.


Average Frames:
Ensure Sideshield is slightly smaller than frame size and install.


Smaller Frames:
Close Sideshield until slightly smaller than frame size and install.
3. Mounting is Easy

1. Insert LEFT temple through large loop of black mounting band on the inside of the LEFT sideshield.(Fig.1)
2. Hold frame and sideshield firmly while stretching the band outward and back to fit into the retaining grooves and over the rear tab.(Fig. 2)
3. Inspect the sideshield alignment to be certain the frame is centered between the top and bottom ribs. Then, repeat these steps for the right side.
4. The sideshields are now affixed to the frame front and temples will fold without the sideshields moving.
4. Packaging Options
B-26+: Glacier Clear / Fits Small and Medium Frames
B-52+: Clear / Fits Small, Medium and Large Frames
CP-5226: Combination Package of B-52 and B-26
SM-5327 Combination Package of "G2 Medium" Sunglass Tint
B-22 Safe Mate®: Available in Clear, Ice Blue, Amber, Grey, and Ebony
Clear
Allows maximum light transmission – applications indoor/outdoor
where high light transmittance is needed.
Ice Blue
Reduces glare while at the same time improves clarity and sharpness
of vision. The blue lens blocks out yellow light while mitigating glare
and eye fatigue.
Amber
Allows maximum light transmission – Improves contrast and gives
a sensation of heightened visual acuity.
Grey
Provides light filtering protection from glare in outdoor or bright light
environments – effective at blocking glare without changing color
or perception.
Ebony
Completely opaque and effective at blocking visible light – mitigates
impact of glare and visual distractions from the peripheral – appropriate
only for lateral optical occlusion.
5. READ INFORMATION COMPLETELY PRIOR TO USE
NOTICE: This SideWear® shield provides LIMITED eye protection. It has been tested by an independent laboratory and certified compliant to the high velocity impact requirements of ANSI Z87.1 – 2003 however it will not protect against all possible eye hazards. This test procedure does not suggest that this product is indestructible, unbreakable, or impenetrable.
CAUTION: NEVER use this product to protect against severe hazards such as but not limited to explosives, fragmenting grinding wheels or abrasive discs, molten metal, lasers, welding, brazing, torch cutting, nail guns, sports activities, simulated war or paint ball games or similar activities. Use additional appropriate protective equipment such as face shields. Dress eyewear is not compliant to Z87 and even when equipped with SOS compliant SideWear® components, this combination shall not be worn in an industrial work environment. Reference ANSI paragraph 2.3.2 page 9.
WARNING: MAINTENANCE & CARE is important to a continuing level of protection. Contact with certain chemicals, including those in some sunscreens, bug repellents and lens cleaners may cause a substantial reduction in impact resistance. To clean, wash in a mild soap solution and rinse in clean water. Inspect product prior to each use for pits, scratches, crazing, or discoloration and replace when any of these conditions exist.
WARRANTY: SOS warrants to purchaser of its SideWear® that these products are free of defects and material and workmanship for a period of one year from date of purchase. If the product is found defective in materials or workmanship and returned to SOS, within the warrant period, it will be replaced. Replacement constitutes the sole remedy for breach of this warranty. Unless prohibited by applicable law, Safety Optical Service Disclaims all other expressed or implied warranties and shall not have any other obligation or liability. This warranty does not apply to defects or damage from misuse, alteration, use of unapproved cleaning agents, improper fit on glasses with which the product is used or use unintended by SOS. In particular, this warranty does not apply to, and SOS is not responsible for, any defect, damages or loss suffered or incurred where are universal SideWear® is attached to frames which have not been tested to the applicable paragraphs of ANSI Z87.1 – 2003.
SOS SideWear® Shields have been tested to OSHA 29CFR1910 and ANSI Z87.1-2003 by an INDEPENDENT TESTING LABORATORY and found COMPLIANT.
Patent No. 5,748,278,6,393,609 B1 and others.