SafeMate® Mounting is Simple.
Hold right sideshield firmly in your left hand with the frame "C" channel of sideshield facing you.
➊ From inside shield, slide right temple paddle tip through the front flex opening of the shield (see fig.1). Then guide the paddle tip along the side channel and through rear locking tab.
➋ Now slide the sideshield completely to the front of the temple and into position around the front of your frame (see fig.2).
Repeat for left SafeMate shield.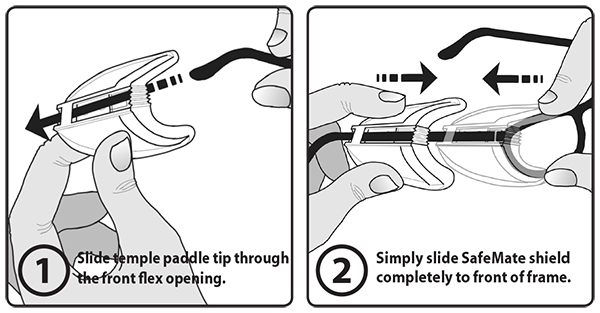 Read Information COMPLETELY PRIOR TO USE
NOTICE: This shield provides LIMITED eye protection. It will not protect against all possible eye hazards and is not indestructible or impenetrable. CAUTION: NEVER use this product to protect against severe hazards such as but not limited to explosives, injurious chemicals, fragmenting grinding wheels or discs, molten metal, lasers, welding, cutting, nail guns, sports activities, simulated war or paintball games or similar activities. WARNING: MAINTENANCE & CARE is important. Contact with certain chemicals, including those in some sunscreens, bug repellants and lens cleaners may cause reduction in protection. Wash in a mild soap solution and rinse in clean water. WARRANTY: SOS warrants that this product is free of defects in material for one year from date of purchase. Replacement constitutes the sole remedy for breach of this warranty. SOS disclaims all other expressed or implied warranties and shall not have any other obligation or liability. This warranty does not apply to defects or damage from misuse, alteration, use of unapproved cleaning agents, improper fit on glasses with which the product is used or use unintended by SOS.
Patent No. 5,748,278,6,393,609 B1